SYNTHESISING A 12bit IMAGE FROM 8bit EXPOSURES
The images produced by domestic web cameras and video capture cards are limited to 256 (8 bit) brightness levels. This is a problem when used for astro imaging where large brightness ranges are found and images are often stretched to enhance faint details.
One possible way round this limitation is to combine images taken at different exposures. This simulation explores how this might be done most efficiently to give a useful increase in brightness resolution.
The starting "image" is a line of 4096 pixels with a brightness gradient from 0 to 4096 ie an image containing 12bit levels.
This is sampled using 8 bit levels at a range of exposures. Exposure duration 1 is chosen so that the maximum brightness in the image just saturates the 8 bit range. Further sampling is done at 2,4,8 and 16x unit exposures.
The control 12bit image is obtained by summing 16x 1unit exposures.
An improved image is produced by producing a weighted average of exposures at 1,2,4,8 and 16 units duration. ie 16x 1 + 8x 2 + 4x 4 + 2x 8 + 1x 16 units. Any saturated pixels are excluded from the average.
The result is a synthesised image with reduced errors compared with the control, particularly at lower brightness levels. The synthesised image preserves the dynamic range of the original and gives approaching 12 bit resolution at low brightness levels. It requires twice the total length of exposure compared with the length of exposure required to just discriminate the lowest brightnesses.
The absolute errors at each brightness level are shown in the graphs below.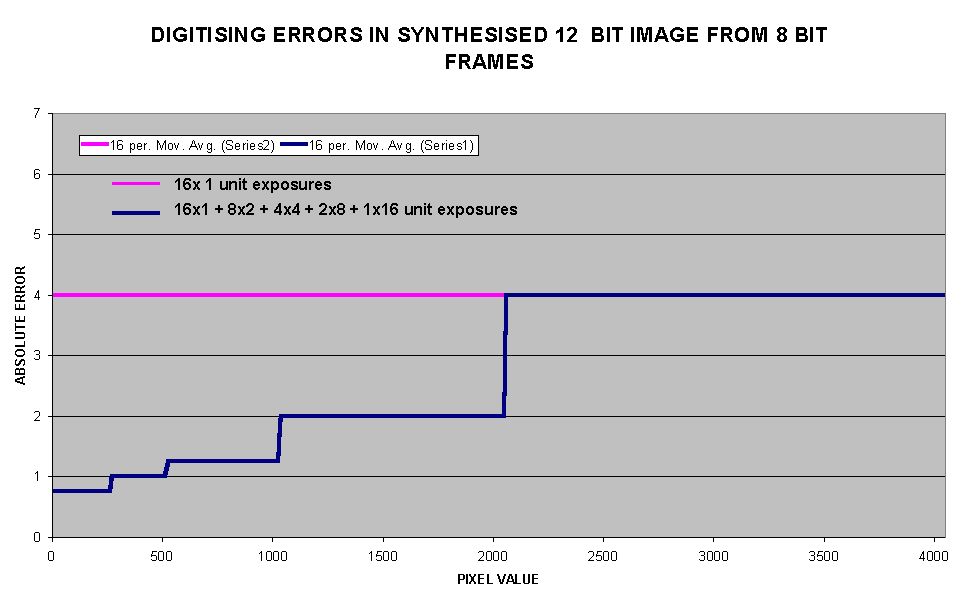 There are too many brightness values to show the errors at each individual level. This graph shows the mean errors over each 16 level interval. The advantage of combining different exposures can be seen in the reduced errors at low brightness levels. The mean error of the control image is 4 brightness levels as expected (The error varies from +8 to -8 as the 8bit image samples every 16 brightness levels in the 12bit original)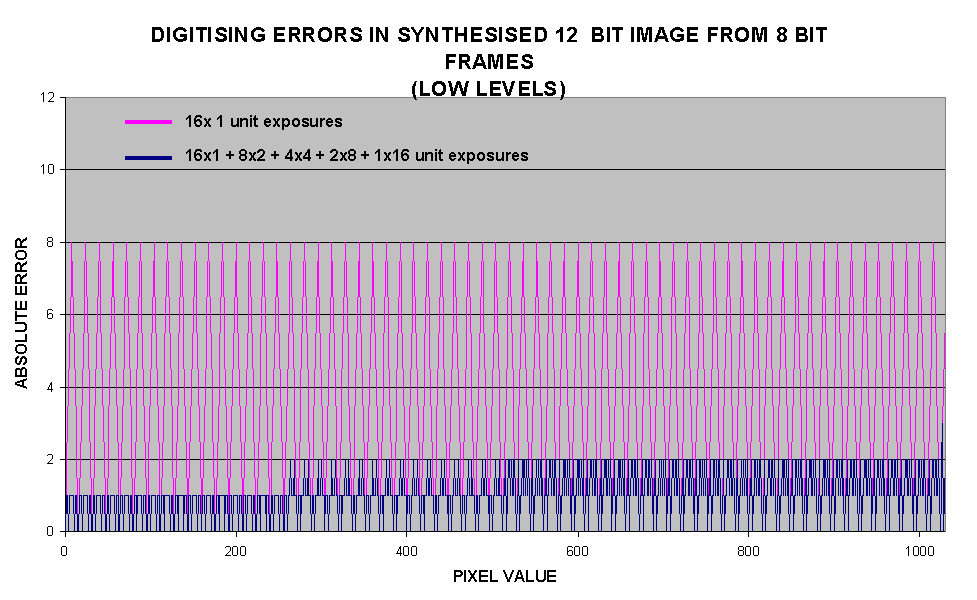 This graph shows the individual errors in the lowest 1000 brightness levels. The errors in the synthesised image are only +-2 brightness levels over this range compared with +-8 in the control.
BUT THIS CAN BE IMPROVED!
GOTO NEXT PAGE