TYPE IIp SUPERNOVA
SN2004et in NGC6946
September 2004 -
| | |
| --- | --- |
| 30th Sept 2004 | 3rd Oct 2005 |
| | |
This Supernova was "adopted" by the QuickCam and Unconventional Imaging Users Group (QCUIAG) and formed an introduction to using modified webcams for photometry for several members of the group. This is a record of my contributions to the light curve, using a VC200L and an unfiltered B+W SC3 modified Vesta webcam.
A spectra showing it to be type II was also measured here
The characteristic plateau and sudden drop of a type IIp supernova are clear in the light curve.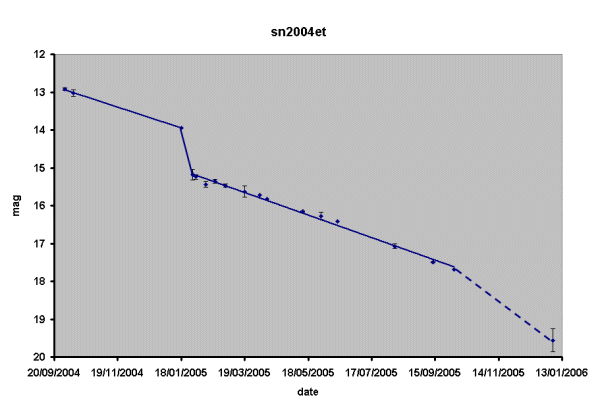 BACK TO PHOTOMETRY INTRODUCTION
| | |
| --- | --- |
| Date | Magnitude |
| 30/09/2004 | 12.92 |
| 08/10/2004 | 13.03 |
| 18/01/2005 | 13.95 |
| 29/01/2005 | 15.19 |
| 01/02/2005 | 15.24 |
| 10/02/2005 | 15.44 |
| 19/02/2005 | 15.35 |
| 01/03/2005 | 15.47 |
| 19/03/2005 | 15.63 |
| 02/04/2005 | 15.73 |
| 09/04/2005 | 15.82 |
| 13/05/2005 | 16.16 |
| 30/05/2005 | 16.27 |
| 15/06/2005 | 16.42 |
| 08/08/2005 | 17.07 |
| 13/09/2005 | 17.5 |
| 03/10/2005 | 17.69 |
| 04/01/2006 | 19.56 |
BACK TO PHOTOMETRY INTRODUCTION