THE INTERNATIONAL SPACE STATION
TRANSITS JUPITER
25th March 2004 19:43:06 UT
54.6564 N 3.3417 W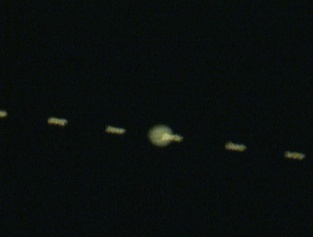 Toucam Pro + VC200L F6.4
CLICK ON THE PICTURE FOR THE FULL SPEED VIDEO OF THE EVENT
This image is a stack of the frames showing the ISS, combined using K3CCDtools and the "add if lighter" option.
The image was obtained despite thick cloud which rendered the event invisible to the naked eye. As a consequence, maximum gain and a slow shutter speed of 1/50th sec had to be used, which has trailed the ISS images. The frame rate was 15fps and a lower than normal resolution of 320x240 had to be used to eliminate frame dropping caused by the slow laptop PC
The track predictions were provided by Tom Fly http://iss-transit.sourceforge.net who kindly supplied several updated predictions in the hours leading up to the event. The imaging location was approximately 70m from the predicted centre line. The width of the transit track was only of the order of a couple of hundred metres - a testament to the accuracy of Tom's predictions.
BACK TO IMAGE INDEX