1004X EX-VIEW LONG EXPOSURE ASTRO CAMERA
First Autoguided Image - M101
21st August 2002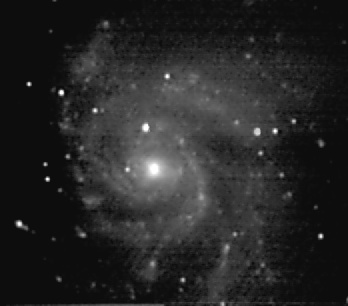 VC200L +FL reducer FL=1250mm 9 frames x2min

This is the first image using the

Quickcam Autoguider set up which allowed 2min exposures without excessive star trailing. The guide star was Alkaid about 5deg away. Drift caused either by guidescope flexure or field rotation due to poor polar alignment prevented longer exposures. The image is noisy because it was taken in full moon conditions. The capture card gain was reduced to avoid saturation.

A new program

Black Frame NR was tried for dark frame subtraction. This avoids the black holes caused by direct subtraction of saturated pixels.