1004X EX-VIEW LONG EXPOSURE ASTRO CAMERA
AN ATTEMPT TO IMAGE EINSTEIN'S CROSS
Einstein's cross is famous example of Gravitational Lensing. The light from a distant quasar Q2237+030 is deflected by a foreground galaxy ZW2237+030 to produce four images of the quasar surrounding the core of the galaxy. See here for more information and an HST image.
http://www.astr.ua.edu/keel/agn/qso2237.html
It is an very tough observing and imaging challenge for an amateur sized telescope. The Galaxy has a total magnitude of +15 and is relatively easy to image. The 4 components of the cross range from mag 17.4 to 18.7 which is within range of my equipment. The complete cross covers an area only about 3arcsec in diameter however, which means sub arcsecond resolution and seeing is going to be needed
16th October 2003
This is my first trial image just to see if I could locate and image the galaxy. I used a focal reducer so the resolution is only about 1.2 arcsec per pixel, not sufficient to resolve the cross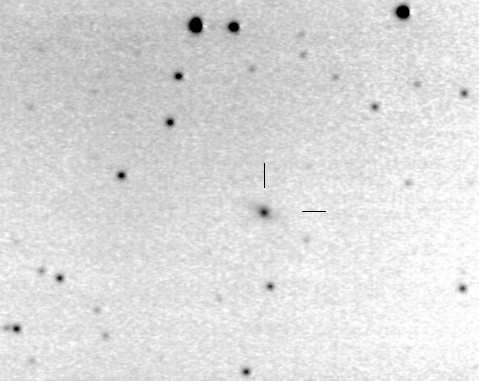 VC200L @ F6.3 27x10sec (high gain)
As a experiment, I magnified the area of the galaxy core in the raw frames x8 and re aligned and stacked them to try to produce subpixel information. The final image was unsharp masked to accentuate any detail. There are variations in the core but they are almost certainly artifacts caused by resudual noise. These types of techniques will be needed however if I am to resolve the cross.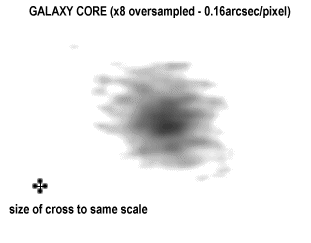 I plan next to take images at prime focus and will image with the camera rotated at different angles to verify if I do indeed succeed in imaging the cross.