THE EFFECT OF USING AN IR BLOCKING FILTER WHEN IMAGING SATURN
It has been reported on the QCUIAG group that the advantages of lower gain and therefore lower noise obtained by not using an IR blocking filter when imaging Saturn with a webcam may outweigh the disadvantages. I have taken the opportunity to test this idea during a rare period of good seeing.
Equipment
Vixen VC200L 200mm Cassegrain telescope, Celestron Ultima 2x Barlow, Toucam Pro Webcam, Baader UV/IR Cut Filter.
Capture
1500 frames at 5fps gamma 30%, brightness 50%, contrast 50%, colour balance left unchanged, gain adjusted to give 180 maximum brightness on K3CCD tools meter, (removing the filter allowed the gain to be reduced from about 40% to 30%), Image refocused with and without filter
Processing
Stacked using K3CCD tools planetary wizard (1000 best frames) Saved as FITS
Imported as RGB FITS into Registax, Identical wavelet settings, brightness, contrast, colour balance, saturation adjusted to give similar final results. Final images rescaled 150%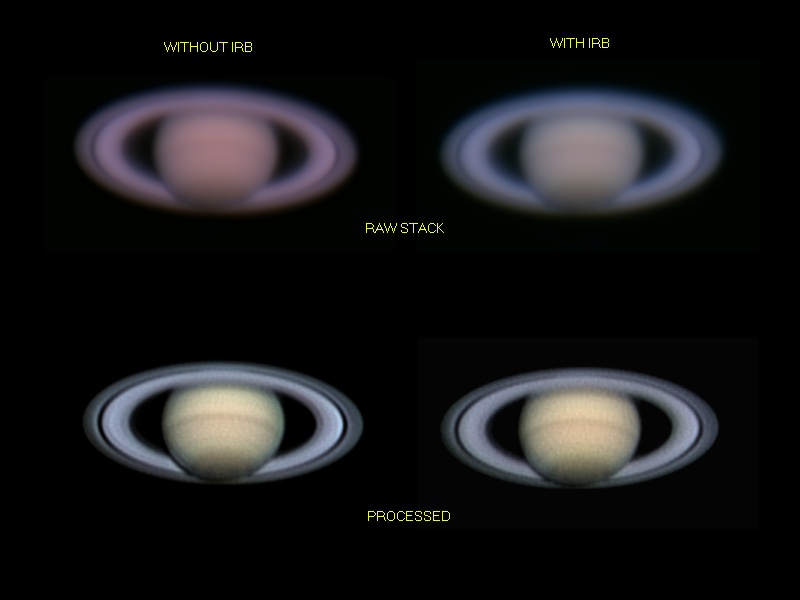 The conclusion is that the final result without the IR Blocking filter is less noisy, The colour shift due to the IR could be compensated for and, at least for this equipment set up and quality of seeing, the resolution has not suffered measurably from the absence of an IR blocking filter
18th January 2004